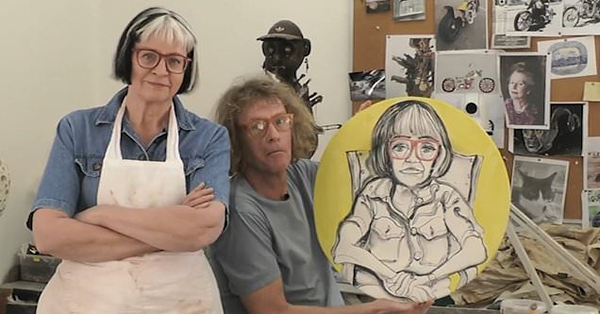 Portraits
A while back Grayson Perry's Art Club on More4 was about portraits.  Like he said, the important thing is to capture the essence of a person and don't fret over an exact likeness. Try to get a likeness but it is not everything – see Grayson's lovely portrait of his wife; better than a photo can ever be. There was one lady who painted a new self-portrait every day for a year. And very good they are.
So here is the challenge. Draw or paint or sew or model a portrait, if you have someone there who is willing to sit still, or a self-portrait every day for a week. Try different materials or styles if you like.  Spaghetti, coffee, pencil, pastels, charcoal, paint etc. They can be quick sketches if you want.
To help you do try a bit of side light on the face from a window. That helps with noses and general shapes. Work from life rather than from a photo. And as Grayson said, don't put in the most important bits like eyes until you have really got going and 'warmed up' a bit. Maybe put in an imaginary background? (Beach, jungle, landscape, city, op art?) A bit of fantasy….?
Have fun!